I got my MSP430 LaunchPad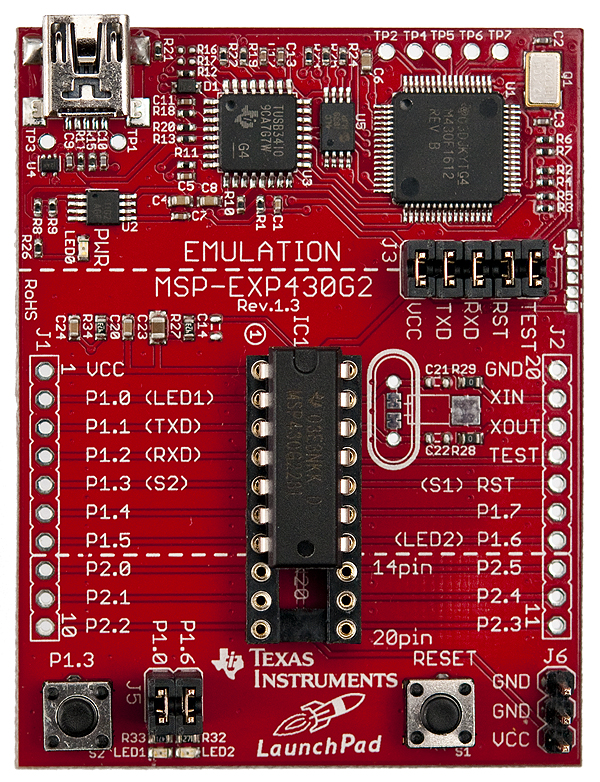 At the price of four dollars and thirty cents - including worldwide shipping, I couldn't resist buying a few of the MSP430 LaunchPads from Texas Instruments. It's a little development board designed for the value line MSP430 micro controllers, with all the necessary components to power and program the chips via USB.
Along with the board, you get two different controllers to work with (an MSP430G2211IPN14 and an MSP430G2231IPN14), a pair of male and female headers to connect your homemade shields, a crystal and a USB cable.
The micro controllers in the value line are small, uses little power and are cheap, but compared to something like the AVR controller on the Arduino, the MSP430 value line have very little memory.
But there are more capable MSP430 controllers, and the LaunchPad board is designed, so that the flash emulation part can be disconnected from the test circuit (via 5 jumpers) and as long as the controller supports programming via Spy-Bi-Wire, you should be good to go. I haven't tested this yet, but I'll order some of the bigger ones and make a little breakout board for testing.
Another nice feature, are the little rubber feet under the board, which almost makes the board stick to the table. Boards like Arduinos should come with rubber feet, either mounted or loose on the side. When you have a lot of test leads connected, those feet definitely makes a difference.
The headers doesn't come populated on the board. This makes it easy to put the male headers sticking out on the bottom side instead, so that they can be used directly on a bread board.
Generally, I like this board. It will not replace my Arduinos, but there will be smaller projects that could very well use one of the small MSP430 chips. When I do, I'll make sure to post a description here on the site.